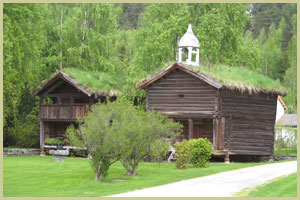 Tromsnes is an historic free holding that has been in family ownership since at least the 17th century, probably longer. The farmyard consists of around 25 buildings, many of them several hundred years old.
The farm's name comes from its location on the headland - 'nes' in Norwegian, (also meaning 'nose') – on the north bank of the Tromsa river at its confluence with the Gudbrandsdalslågen river.
Historians believe that there has been settlement here since around 600 AD. Consequently, Tromsnes is one of the oldest farms in the area. It also means that there have been many archaeological finds made in the farmyard, including a Viking sword dating from the early 10th century, and a couple of burial mounds that are yet to be dated. We have also found mammoth remains.
The business origins of the farm lie in the cultivated areas, where we grow grain or other crops, and in the forest and outlying fields where timber, cellulose and wood for fuel harvested. The forests and fields are also a source of recreation including hunting and other outdoor pursuits.
In the commercial buildings, we farm pigs – there is capacity for around 240 porkers.
In earlier times, Tromsnes was active in all types of animal husbandry and crop farming, as most Norwegian farms. This continued until after the Second World War, with cattle, horse breeding, pigs, sheep, goats, chickens, ducks, geese, turkeys and rabbits. At one time, there was also fur farming here.
The family mascot – and a favourite of all visiting children – is a small flock of hill sheep which graze around the farm all year round.