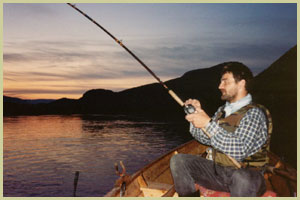 Photo: Bjørn Rønningen
As our guest you have free use of fishing rights along our private riverbanks (extending approx. 1 mile – 1,500m), which include a number of exceptionally good beats both along the Gudbrandsdalslågen river and its tributary the Tromsa, which is just 110 yards from the farmyard.
Additionally, you can find a huge choice of fine fishing possibilities in the mountain areas (there are around 100 lakes in the Ringebu District). The natural surroundings, with their excellent and diverse fishing, led to the 1994 World Fly Fishing Championships being awarded to Ringebu District, both the Lågen river and a range of woodland and mountain lakes being used as competition venues.
Fishing holidays have great recreational value. One gains exercise, plus a rich and diverse appreciation of nature in a varied and exciting landscape.
The Lågen is famous as an excellent, well-stocked fishing river containing strong populations of trout, grayling, gwyniad (coregunus lavaretus), perch and ling.
Lågen trout are notable for their size, growing as large as 24lbs (11kg). Lower reaches of the Tromsa and other tributaries also contain relatively large trout.
Large stocks of grayling and gwyniad also live here, often in shoals, and they provide interesting fishing, especially in the evenings and at night. Normal sizes range from 31/2 oz. to 1lb 2 oz. (100 – 500 g), with maximum weights of two to three pounds.
There are perch stocks both in the Lågen and in many local mountain lakes.
Ling – or burbot – are fine-tasting cod like fish found in the Lågen and Losna Water, together with other lakes. They can grow up to several kilos in weight. It is possible to fish for them in winter, but we do warn of the dangers of unsound ice.
Normally, the fishing season runs from June 1 until September 5. In the Lågen, fishing begins on May 20, earlier with certain types of tackle. With certain small restrictions, one can fish in the Lågen right through the autumn and winter.
Ice fishing is a popular activity in the winter months, especially in waters with good stocks of char and large perch.